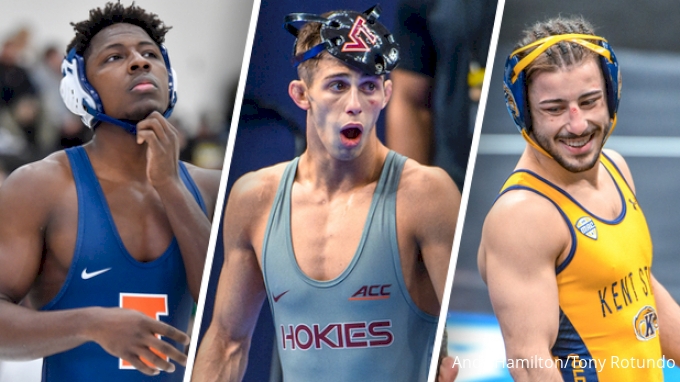 50 more upsets in week 2!
The hits keep coming! More than 50 upheavals for the second week in a row!
Credit to all the wrestlers who put it on the line. It's also still incredibly early, so expect a lot of movement as the rankings all stabilize later in the season. Additionally, wrestlers still have plenty of time to avenge their losses and regain lost ground.
Additional caveats apply, as many of these so-called upheavals will not be seen as such in hindsight. Subclasses that have not yet established a D1 body of work start the season low or none at all. Experienced wrestlers skip levels and by the end of the year will have established themselves as being at higher levels than the wrestlers for whom they are, for now, considered underdogs.
Some of the biggest upheavals below, followed by technical upheavals, we were able to find the results this week. Note: HM stands for 'Honorable Mention', or someone ranked between 25th and 33rd in the ranking.
133 pounds – HM Sam Latona, Virginia Tech over #5 Jesse Mendez, Ohio State, D; 3-2
A daring match of the two wrestlers. Latona shakes off the loss he suffered to F&M's Pat Phillips at the Southeastern Open and beats real freshman Mendez, after Mendez's big win over Lucas Byrd at the MSU Open.
174lbs – #22 Edmond Ruth, Illinois vs. #9 Peyton Mocco, Missouri, D;7-5
Edmond seems to be finding his groove now that he has joined the Illini program where his older brother Ed Ruth coaches. Mocco left it all on the mat in their highly entertaining final fight at the Tiger Style Invite, but Ruth prevailed. Ruth also has two wins over Darrien Roberts (more on him shortly) and just 1 loss to No. 6 Ethan Smith of Ohio State this season. He looks more and more like a competitor every week.
Watch Ruth win a Tiger Style Invite title against Mocco:
125 lbs. – Elijah Griffin, California Baptist on #6 Kysen Terukina, Iowa State, D; 4-2
Like Mendez, Terukina was just upset himself, after knocking out Wisconsin All-American Eric Barnett in Week 1. Griffin is one to watch, as his only loss this season is against Cal Poly's Antonio Lorenzo, who just won the Tiger Style Invite.
174 pounds – HM Darrien Roberts, Oklahoma on #8 Philip Conigliaro, Harvard, D; 4-3
Roberts was himself upset this week when he lost to unranked Joey Milano of NC State (although Milano would likely get a ranking if he established himself as the Wolfpack starter at 174). The junior Sooner made his game against Conigliaro count, however, as he battled his way to a one-point victory, scoring the game-winning strikeout with a perfectly timed shot in the dying seconds.
Watch Roberts defeat Conigliaro at the Journeymen Collegiate Classic:
149lbs – #19 Caleb Henson, Virginia Tech over #2 Sammy Sasso, Ohio State, D; 5-3
That was the big news on Friday and has already been discussed quite a bit in the meantime. Young freshman Hokie from Georgia makes a statement during his first college double meet.
125 lbs. – #22 Jake Ferri, Kent State over #8 Caleb Smith, Appalachian State, D; 5-2
Smith picked up a huge victory at the 2022 NCAA Championships over two-time All-American Pat McKee, which, along with a full schedule filled with plenty of quality wins and few bad losses, earned him a top-ten finish. the season. Golden Flash Jake Ferri was unconcerned by this ranking, however, and defeated Smith in the App State Invite finals.
125 lbs. – Carter Bailey, Lehigh on #13 Joey Prata, Oklahoma, D; 5-4
125 pounds – HM Antonio Lorenzo, Cal Poly on #15 Noah Surtin, Missouri, D; 8-6
125 lbs. – Richard Figueroa, Arizona State on #17 Dylan Shawver, Rutgers, D; 5-3
125 lbs. – Richard Figueroa, Arizona State vs. #18 Ryan Miller, Penn, D; 6-2
125 lbs. – Jacob Van Dee, Nebraska on #23 Jarrett Trombley, NC State, D; 7-3
125lbs – Jack Wagner, NC vs. HM Anthony Molton, Campbell, D; 10-6
125 lbs. – Kurt McHenry, Michigan vs. HM Anthony Molton, Campbell, D; 4-3
125 pounds – Dean Peterson, Rutgers on HM Joey Fischer, Clarion, D; 6-1
133lbs – Hunter Leake, California Baptist on #12 Zach Redding, Iowa State, F;4:35
133lbs – Cody Phippen, Air Force on #14 Sean Carter, Appalachian State, D; 9-3
133lbs – Julian Chlebove, Arizona State over #24 Wyatt Henson, Oklahoma, D;13-6
133lbs – Ethan Fernandez, Cornell on HM Jace Koelzer, Northern Colorado, D; 6-0
133lbs – Ethan Fernandez, Cornell on HM Pat Phillips, Franklin & Marshall, D;8-3
133lbs – Julian Chlebove, Arizona State over HM Cole Rhone, Bloomsburg, D;8-5
141 lbs. – McKenzie Bell, rider on #14 Parker Filius, Purdue, D; 9-6
141 lbs. – HM Darren Miller, Bucknell on #18 Carter Young, Oklahoma State, D; 4-2
141lbs – Brock Hardy, Nebraska vs. #23 Jesse Vasquez, Arizona State, F;3:36
141 lbs – Mosha Schwartz, Oklahoma vs. HM Malyke Hines, Lehigh, F; 3:36
141lbs – Vince Cornella, Cornell on HM Josh Koderhandt, Navy, M;15-3
149 lbs. – Dylan Martinez, Air Force on #11 Jaden Abas, Stanford, F; 2:44
149 lbs. – Dylan Martinez, Air Force over #21 Jarod Verkleeren, Virginia, D; 7-5
149lbs – Kevon Davenport, Ill. vs. HM Luke Nichter, Drexel, F;:52
157 lbs. – Daniel Cardenas, Stanford on #12 Jake Keating, Virginia, D; 12-6
157 lbs. – Luke Kemerer, Edinboro on #12 Jake Keating, Virginia, F; 4:30
157 lbs. – Peyten Kellar, Ohio on #21 Cody Bond, Appalachian State, D; 10-5
157 lbs. – Charlie Darracott, Stanford on #21 Cody Bond, Appalachian State, D; 3-1
165lbs – Enrigue Munguia, Kent State vs #13 William Formato, Appalachian State, M;13-3
165 pounds – HM Wyatt Sheets, Oklahoma State over #18 Brian Meyer, Lehigh, D; 5-0
165 lbs. – Tony Negron, Arizona State vs. #19 Lucas Revano, Penn, D; 5-2
165 lbs. – Cody Walsh, Drexel on #23 Legend Lamer, Cal Poly, M; 18-6
174 lbs. – Sam Wolf, Air Force on #11 Tyler Eischens, Stanford, D; 5-3
174 pounds – HM Darrien Roberts, Oklahoma on #23 Jay Nivison, Buffalo, D; 5-1
174lbs – Jared McGill, Edinboro vs. HM Sal Perrine, Ohio, D;4-1
174 lbs. – Joey Milano, NC State vs. HM Darrien Roberts, Oklahoma, D; 8-6
184 lbs. – HM David Key, Navy on #16 Anthony Carman, West Virginia, D; 7-6
184 lbs. – Brian Soldano, Rutgers on #18 Will Feldkamp, ​​Clarion, M; 15-5
184 lbs. – Brian Soldano, Rutgers on #22 Anthony Montalvo, Arizona State, T; 18-3
184lbs – #21 Travis Wittlake, Oklahoma State over #13 Tate Samuelson, Lehigh, D; 4-2
184 pounds – Reece Heller, Pittsburgh vs. HM DeAndre Nassar, Cleveland State, D; 3-2
184 lbs – Roman Rogotzke, South Dakota State vs. HM Deanthony Parker, North Dakota State, D; 5-4
197lbs – Garrett Joles, Minnesota vs. #18 Owen Pentz, North Dakota State, D; 6-0
197lbs – #20 Isaac Trumble, NC State over #17 Silas Alred, Nebraska, D; 9-2
197 lbs – Trey Rogers, Hofstra vs. HM Cole Urbas, Penn, D; 4-2
197lbs – Eli Sheeren, Buffalo vs. HM Keegan Moore, Oklahoma, F;:42
285lbs – Nathan Taylor, Lehigh on #15 Josh Heindselman, Oklahoma, F;4:18
285 lbs. – HM Grady Griess, Marine on #17 Michael Wolfgram, West Virginia, D; 6-4
285 lbs – Jake Slinger, Pittsburgh vs. HM Daniel Bucknavich, Cleveland State, D; 3-1
285lbs – #22 Ben Goldin, Penn over #21 Zachary Knighton-Ward, Hofstra, D; 4-3