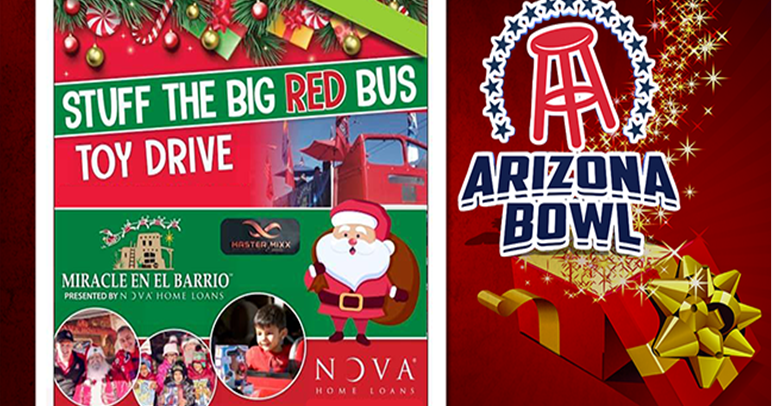 Barstool Sports Arizona Bowl Toy Drive to Benefit Miracle En El Barrio | News
TUCSON (KVOA) – The Barstool Sports Arizona Bowl continues to partner with Tucson area charities to help children in need during the holiday season.
In addition to providing tickets to the Arizona Bowl game between Central Michigan and Boise State, children participating in this year's "Miracle In El Barrio" will receive a number of other treats.
Here is all the information:
Barstool Sports Arizona Bowl Toy Drive to benefit Miracle En El Barrio
Location: Arizona Sands Club, University of Arizona football stadium
When: Tuesday December 14
Time: 4 p.m. to 7 p.m.
(Nova Hone Loans is still a Bowl sponsor)
Objective: collect new unwrapped toys
Nova Home Loans was the title sponsor of the AZ Bowl from its inception in 2015 until 2019. Today, Nova Home Loans remains a sponsor and continues to support the Arizona Bowl.
To date, Miracle En El Barrio has donated toys to over 38,000 children in the Southside, many of whom might not otherwise receive toys for Christmas.
Santa will give toys to each child, Chick FIL A will feed the children, Eegee's will give Eegee's, Peter Piper Pizza will give the children a pizza. Plus, there will also be music and entertainment, and face painting!
Learn more about the event itself:
19th Miracle En El Barrio presented by Nova Home Loans
When: Monday, December 20
Where: St. John's Church, 602 W Ajo Way (12th Ave & Ajo)
Time: 9 am-1am
Expected attendance: 2,500 children
Steve Nunez and former professional soccer player and Amphi High star JJon Volpe, president and CEO of Nova Home Loans, launched Miracle En El Barrio to make sure no child wakes up in the morning Christmas tree without toy.
Miracle En El Barrio is now Tucson's largest toy distribution party, supported by partner companies who share Miracle's mission to give back to children in need in our community.