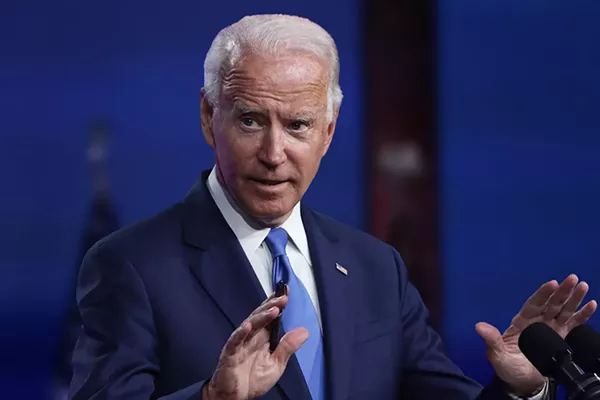 Biden has promised to bring the country back to normal. There is no more normalcy to return to. | Informed dissent | Detroit
It will be a bad year for the Democrats.
It was always going to be a bad year for Democrats. Midterms are often for the president's party. Midterms are always when the president's approval ratings are in the toilet, his base is demoralized, and the party suffers a series of self-inflicted wounds that prevent him from developing anything close. of a coherent message.
It's not just Sen. Joe Manchin killing Build Back Better just to watch it die, or Manchin and Sen. Kyrsten Sinema turning around so Mitch McConnell can obstruct voting rights legislation. It's also Nancy Pelosi the lowest goal imaginable: bipartisan legislation requiring members of Congress to place their shares in a blind trust so they cannot trade on inside information, as many – many – of them have done.
People hate politics because they think politicians are corrupt and incompetent. Most don't read the fine print. They don't care that the child tax credit is gone because of a West Virginia millionaire. They don't know the Democrats failed to protect the right to vote because this millionaire and a narcissist from Arizona decided that loyalty to a Jim Crow-era procedural anachronism was more important than ensuring that black and brown votes matter.
They also mostly fail to grasp how radicalized the Republican Party is or how much of a threat it poses to American democracy; Attempts by Democrats to bring out Jan. 6 have been unsuccessful, and there is no reason to believe this issue will resonate beyond the elites anytime soon. (To clarify: if you read the New York Times, the Washington Post, your local newspapers, at least one political newsletter, can name all the members of the Supreme Court of the United States, can name the Senate Minority Whip or know who VO Key was, you're elite.)
On a mass level, what matters is that things cost more, the stock market is crashing, COVID is out of control, schools may close again, and Congress (read: Democrats) won't. can't pull himself together.
In short, Joe Biden has promised to bring the country back to normal. He did not deliver.
Again, lots of detail, context and caveats. The stock market has plunged this month on fears over inflation, which is occurring primarily due to the effect of COVID on international supply chains, labor and product demand. The omicron variant is spreading across the country as nearly a third of Americans are still unvaccinated — often in an act of stubborn political defiance — and most Republican-run states have scrapped masking and exposure requirements. other precautions. (The Supreme Court's right-wing majority also blocked the efforts of the administration to get more people vaccinated.) Intensive care units are filled with unvaccinated patients, straining the entire health care system.
And with the spread of omicron, schools are in a precarious position. Educators are understandably concerned about being stuck in rooms all day with body germ factories. Epidemics lead to widespread student absences or an insufficient number of teachers to cover lessons.
But the reasons why things are bad matter less than the feeling that things are bad. And the good things empirically — more jobs created last year than in the three previous Republican administrations combined — don't come through the noise.
Biden made a lot of mistakes in his freshman year. Underestimating the speed with which Kabul would fall to the Taliban is certainly near the top, as well as his wandering confidence that he could embark Manchin and Sinema with sweeping social reforms. But his biggest mistake — one that I think will haunt him through November and for the rest of this term — is thinking there was a pre-Trump, pre-pandemic normal to revert to.
There is no normal. There won't be as much as a political party thrives on chaos.
At a press conference last week, Biden admitted he blew that one"One thing I haven't been able to do so far is get my Republican friends to get into the game to make things better in this country. … I hadn't anticipated there would be such a sustained effort to ensure that the most important thing was that President Biden did nothing. Think about this: what are Republicans for? What are they for? Name me one thing they are meant for.
That's a good question for a party that didn't bother to articulate a platform in the last election, and does not claim to have one now. McConnell told a reporter he would let the country know his program after the Republicans took over the Senate. House Minority Leader Kevin McCarthy is focusing on a culture-war handbag: pay back grievances against "woke" companies, social media companies, China and Democrats.
More than tax rates or any of the complex political issues that affect people's lives, culture war issues persist. They are guttural, not intellectual. They talk about how we define ourselves. For the South, Jim Crow was a culture war. For fundamentalists, abortion is a culture war.
For the Republican Party's MAGA wing, it's all a culture war.
Populist movements operate on emotion. Biden, a relic of a softer time, thought he could compromise with that. He told the nation that with Trump gone, that emotion would give way to a calmer normalcy. It would never happen. Even if the Republican elites wanted to play ball, the populace would not allow it. But they don't. The messier the country feels in November, the better in January.
So it will be a bad year for the Democrats. The only question is how much. If the pandemic stabilizes, inflation cools, the stock market improves, Manchin gets religion on some form of Build Back Better, and Democrats can both take credit for what works and counter the Republican messages on the culture war, they could stop the bleeding.
I wouldn't hold my breath. As destructive as the Republican slash-and-burn strategy is to democracy, it's damn good politics.
Stay connected with Detroit Metro Times. Subscribe to our newsletters and follow us on Google News, Apple News, Twitter, Facebook, instagram, Where Reddit.