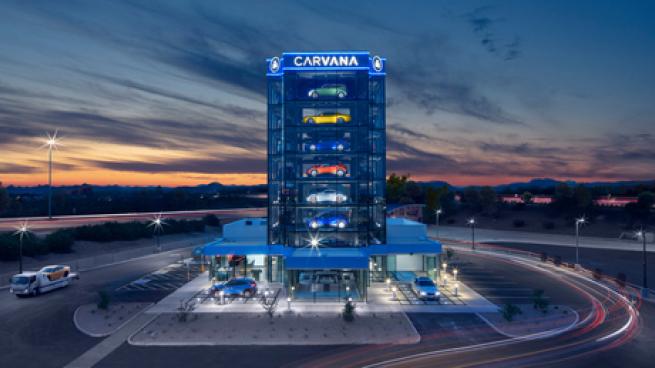 Carvana opens a second "car vending machine" in Arizona
Carvana brings a automated pick-up location of the vehicle to its hometown.
The omnichannel used car buying and selling platform is launching its 33rd car vending machine, located in Glendale, Arizona. Glendale is part of the Phoenix metro area, where Carvana's headquarters are located.
The newest Carvana vending machine is the second of its kind in Arizona, following the 2018 opening of a vending machine in Tempe, and the 33rd in the United States. It follows a vending machine opened in San Francisco in May 2022.
The steel and glass structure rises eight stories high with a capacity of 31 vehicles and serves as an automated distribution center for online car purchases.
Customeromers can use the Carvana online platform to buy more than 75,000 used cars for sale; secure car financing; use a digital car loan calculator; and buy, trade, and schedule vehicle delivery the next day in as little as five minutes.
In addition to home delivery, Carvana customers in Phoenix and other markets with a vending machine can also choose to select a day and time to pick up their vehicle from the vending machine.
Upon arrival, they will be greeted by a customer advocate and given an oversized Carvana commemorative coin to activate the automated sales process and watch their vehicle descend through the lighted structure.
Customers receive a high-definition 360-degree virtual tour of each vehicle, inside and out. The vehicles have passed a 150 point inspection, have never been in a reported accident and have no chassis damage. Features, blemishes and updated information on open safety recalls are listed on each car's vehicle description page.
All vehicles in Carvana's nationwide inventory come with a seven-day return policy; unlike a traditional test drive. According to Carvana, this ensures customers have the time to determine if the vehicle meets their needs.
Customers can also sell their current vehicle to Carvana and receive an offer in as little as five minutes, without having to purchase a vehicle. To sell a vehicle, customers enter their VIN or license plate number on Carvana.com, answer a few questions, and then Carvana can pick up the vehicle and pay for it the next day.
"Since day one, Phoenix has always been our home, embracing our mission to change the way people buy cars by treating them better," said Ernie Garcia, Founder and CEO of Carvana. "Being back in our hometown with our latest car vending machine design, which will bring an even better experience to more people across the Valley of the Sun, is a very proud moment of return for Carvana. We look forward to bringing even more great experiences to car buyers in the Phoenix area. »
Additional car vending machines are located in Utah, Virginia, Nevada, Kentucky, Tennessee, Florida, Maryland, Texas, Ohio, Pennsylvania, Indiana, Illinois, Missouri, North Carolina, Oklahoma, Michigan and Georgia. Founded in 2012 and based in Phoenix, Carvana offers next-day delivery to auto shoppers in more than 300 U.S. markets.