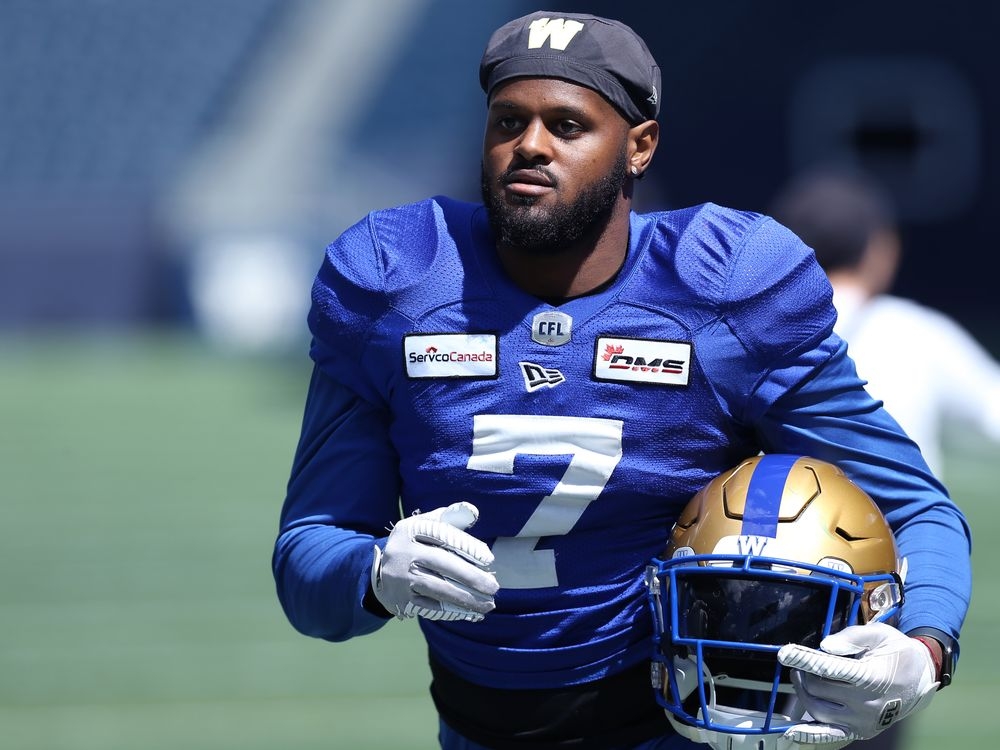 One man's woe: Maston's Achille tear opens door for Bombers' Rutledge
Content of the article
This one hurts.
Content of the article
Winnipeg Blue Bombers head coach Mike O'Shea confirmed everyone's worst fears Friday about linebacker/defensive back Mercy Maston's injury early in training camp.
"He hurt his Achilles tendon," O'Shea said. "The other. It's very hard. Hard with him, hard with his teammates. Yes, that's the worst. That's the worst.
It's also a cruel deja vu, as Maston tore an Achilles tendon the first week of training camp last year, wiping out his season.
Maston had played a key role in Winnipeg's run for the 2019 Gray Cup title when he took on one of the toughest defense positions at the end of the year.
When he fell last year, general manager Kyle Walters quickly traded Toronto for Alden Darby, who was a West Division star as the Bombers won a second straight championship.
Content of the article
Walters, however, remained silent this time.
We present to you the reason: Donald Rutledge, Jr., 25, a CFL freshman from the Bronx, via Georgia Southern University.
At 6-foot-1 and 215 pounds, he's no bigger than average.
Talk to him for a few minutes and you'll quickly recognize one of his strengths.
"He's a smart guy," linebacker Adam Bighill said of Rutledge. "So he picked things up pretty quickly. And he's obviously athletic and moves very well. He saw the good things. Now is the time for him to do it when the lights come on for real.
Tough position or not, Rutledge is the heavy favorite to start there when Ottawa visit for the season opener next Friday.
They may call it the "dime back", but it's worth a lot more than that for a defense. Covering receivers, stopping the run, blitzing – they tend to do it all.
Content of the article
"We brought guys to this place because we didn't know how it was going to be, anyway," O'Shea said. "But yes, he is good."
Rutledge admits he had a great camp. He came with a plan, he said.
"I came to camp just to show versatility, to be smart. My main objective was simply to gain the confidence of the coaches. I felt like I did that and played hard.
Asked about the difficulty of the position, Rutledge shrugged. It's just football, he said. No different at linebacker or safety, where he also took reps.
The hardest part? Tracking every move, keeping eyes on everything, not just his own man, while communicating with his teammates.
As for potentially starting next Friday: "I would feel comfortable starting anywhere, Week 1," he said. "Wherever they put me. When Mercy dropped, I feel like I'm the perfect guy to play the part, just with the way I fit in with the guys. And if they want to attack someone, or any new guy, I want it to be me.
Content of the article
"Because I feel like I'm ready. I am battle proof.
Training camps with Indianapolis and Arizona got him here, but Rutledge hadn't played a game in more than two years before preseason.
His statistics are not obvious: he made a tackle in every game.
"He's got this leadership quality that's interesting to note," O'Shea said. "And he can fly and play good football. Some guys cover well and some block well and some guys run well or tackle well. This position, in particular, must be able to do everything. And he did it all at a very high level.
Rutledge paid tribute to the coaching he received, on the sidelines and on the pitch.
"Even though I think I know, I still ask the questions," he said. "Being willing to take advice and sometimes coach hard. Willy Jefferson, he could come after you. When he teaches you, it can be a little harsh, it can be strict, it can be severe. And some guys may take offense to that. It's just the way he delivers his message.
Content of the article
"Just be humble enough to understand and listen to everyone when they try to coach you."
"Just humble enough" describes Rutledge well.
He exudes the quiet confidence of someone who knows exactly what he is doing.
And why he does it.
"When Mercy went down, man, we just stopped the whole period," Rutledge recalled. "I just hate when bad things happen to good people. He took me under his wing early on and he was just a great guy. I don't want them worrying about this post… like, 'Dang, this is another post we have someone on and we might have questions about it.'
"I just want to step in and learn and play at as high a level as he was playing, so they can feel like everything is going to gel and we still have a strong defence."
Nobody seems too worried.
Next Friday, as Bighill said, we'll start to see if he can do it for real.
Twitter: @friesensunmedia