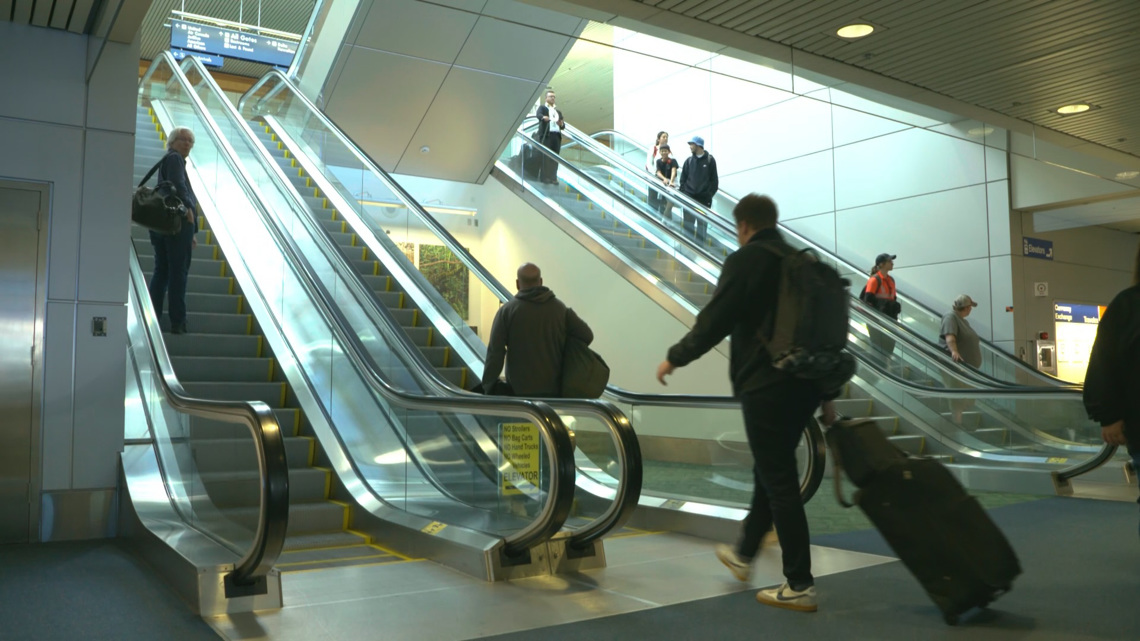 PDX Expects Rise in Travelers Over Memorial Day Weekend
As more people travel, an OHSU doctor says it's possible we may see another spike in coronavirus cases two weeks after people return.
PORTLAND, Oregon – Memorial Day weekend at Portland International Airport (PDX) is very different this year compared to 2020, when the COVID-19 pandemic had just started.
For the first time in months, health officials have failed to warn people against vacation travel.
Stephanie Wieber and her family took the opportunity to visit her father in Arizona.
"I haven't seen my dad for two years since the pandemic started and I just needed to watch him," Wieber said. "When you have aging parents, it's hard not to know they're okay."
As cases of COVID-19 decline and vaccination rates rise, Wieber says she feels comfortable enough to visit vulnerable and at-risk family members.
"When I found out that children could get vaccinated, it wasn't a difficult decision. So as soon as they said it was possible, we were in line and that gave us freedom, "said the mother of three.
Wieber will be part of a much larger group traveling out of PDX for Memorial Day weekend compared to last year. Here is the number of travelers PDX expects each day:
Friday May 28: 34,000 to 41,000
Saturday May 29: 26,000 to 37,000
Sunday May 30: 32,000 to 38,000
Monday May 31: 34,000 to 41,000
Last year, the airport welcomed just under 8,000 travelers on Memorial Day Friday weekend. In 2019, he saw around 65,000.
Nationally, Transportation Security Administration (TSA) agents screened nearly 2 million people at airport checkpoints on Memorial Day weekend Friday. The TSA said this was the highest volume of checkpoints since the start of the pandemic.
But with more people traveling, Dr Matthias Merkel of Oregon Health & Science University (OHSU) says it's possible we may see another spike in coronavirus cases two weeks after people return.
"I predict it won't be as bad as the peaks we saw over Christmas because a lot more vaccinations were done," Dr Merkel said, "but I think it's a humbling reminder that this virus is still a threat and we need to do it. Keep paying attention to this. "
Wieber says cautiously, this is exactly how she approached her family's first big trip out of state since the pandemic.
"I have two masks, we are vaccinated but I want to do everything we can to make sure everything is fine," she said. "But I feel like we have some leeway."
RELATED: 'Huge Relief': Portlanders Excited to Relax COVID Restrictions to Start Memorial Day Weekend
RELATED: Ways to Celebrate Memorial Day Virtually and Outdoors