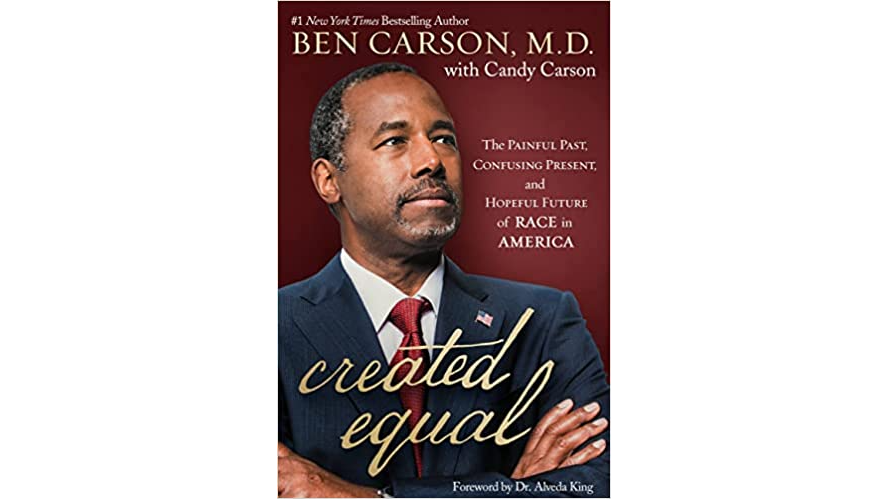 The painful past, confusing present and hopeful future of race in America'
Dr. Ben Carson has been celebrated in a variety of arenas. He is the former Secretary of Housing and Urban Development, 2016 Republican presidential candidate, and former director of pediatric neurosurgery at Johns Hopkins. He is also a bestselling author having written several books before this one. In 2008, under President George W. Bush, he was awarded the Presidential Medal of Freedom, the nation's highest civilian honor. He holds more than 70 honorary doctorates.
He is also black, Christian and conservative. He has been married to his wife, Candy, for almost 50 years. They have three adult sons.
When he was growing up, he was called a "bookworm" for his avid reading and pursuit of knowledge. He attributes much of that credit to his mother who instilled a strong work ethic in him, as well as to his brother, Curtis. She asked them to do weekly book reports outside of class assignments.
Growing up in poverty, he dreamed of being part of the middle class and was determined to make it happen for himself and his future family.
He far exceeded those expectations and now enjoys a more than comfortable lifestyle. He has great love and admiration for this country and despairs of the current destructive divisions that threaten to undermine and unravel a democracy he holds dear.
Tackling Difficult Subjects
In "Created Equal: The Painful Past, Confusing Present and Hopeful Future of Race in America", Carson pulls no punches.
It addresses the seemingly ubiquitous topics of today: the history of slavery, racism in America, white guilt, victimization, critical race theory, media and big tech and their powerful narratives, Judeo-Christian values, education, the 1619 project and classism. These are some of the hot topics he speaks out for.
And he does it with what I would call critical attention. He went to Yale University. His professional career was as a neurosurgeon. He is very well educated but, in addition to his academic prowess, he is first and foremost a Christian and derives his guidance and comfort from God. It is his faith that allows him to speak out against what he sees as destructive forces in America pushed by progressives under the cloak of social justice when he sees it as a push towards socialism.
Celebrate rather than criticize
Because humans have no control over the color of their skin, Carson celebrates the gift of our racial and ethnic diversities and abhors groups that seek to use diversity as a wedge to divide us.
Slavery in America officially ended in the 1860s. Certainly, vestiges of this institution remain today in our country, causing victimization for some and guilt for others.
Carson uses his own life experiences as a black man to provide an example of what is possible in America. He prefers to applaud all the progress black people have made over the past few decades, rather than using race as an excuse to remake America into something far removed from what the Founding Fathers envisioned.
Carson errs on the side of faith and forgiveness when it comes to many forms of racial discrimination. He believes that much of the discrimination of the past was due to ignorance rather than malice. He writes: "Once this ignorance was erased, the discriminatory behavior disappeared. When people behave unjustly out of ignorance, faith-based principles of forgiveness should be exposed. »
While not dismissing past sins or the flawed nature of America's past, Carson would prefer that we influence our environment in positive rather than negative ways. "We can be a victim or a winner. We can be guilt-ridden or thankfully guilt-free. We should never let others determine our state of being.
Committed and outspoken, Carson warns of an apathetic population. He encourages readers to beware of the "slippery slopes of Marxist tendencies." Precious freedoms that we take for granted can be lost.
"Many people think that the United States of America is impregnable when it comes to overthrowing its capitalist society and imposing socialism or communism. People would do well to remember how quickly the Soviet Union dissolved and how quickly Venezuela went from the most prosperous to the poorest nation in South America in a very short time. Once the erosion of freedom begins, its progress often resembles a blitz-krieg.
The media and big tech don't escape Carson's scrutiny. They can be a force for good or evil depending on the narrative they advocate. These institutions can shape definitions of morality or appropriate behavior. They wield enormous power and in many cases are contrary to the freedoms of speech, thought and expression.
His book is not long. It's a pretty quick read, but it's packed with thoughtful, passionate, and insightful opinions on where we are in America and shows the potential of where we could be.
It is an uplifting and hopeful analysis. Carson chooses to celebrate America's strengths rather than its historical weaknesses.
'Created Equal: The painful past, confusing present, and hopeful future of race in America'
By Dr. Benjamin Carson with Candy Carson
Center Street; May 17, 2022
Hardcover: 272 pages